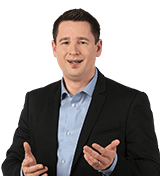 Do you have any questions or suggestions?
Contact us now
Thomas Keller
1&1 Domains Expert
Find your perfect domain name
Included: free email address, private registration, and SSL certificate
Get more than just a domain name
Register your domain with 1&1 and benefit from our comprehensive features
| | | |
| --- | --- | --- |
| Private Registration | 2 GB of email storage | SSL Certificate |
| We believe that you shouldn't have to pay to keep your info private. Protect your personal information from theft and spam with private registration. | Communicate professionally with an email address linked to your domain (you@yourdomain.com). | Encrypt all data sent to and from your website with an SSL certificate, protecting your customers and transactions. |
| 1-Click Activation | 10,000 Subdomains | 24/7 Customer Support |
| Connect your new domain to your website in one click. | Create up to 10,000 subdomains to customize and structure your website, such as about.yourdomain.com. | Our professional, knowledgeable support team is always available for help and advice, 24/7. Your satisfaction is important to us! |
All Domains & Prices
Find the domain you want for an unbeatable price with 1&1
Registration

Registration Term

Renewal

ICANN Fee
What should you know about domains?
Domain Names
Domain Privacy
New Top Level Domains
SSL Certificates
What is a domain?
A domain name is, quite simply, the name of your website. The domain can be found in the URL and is used in order to locate the website of a specific person or organization. Each domain name or URL directs users to a specific IP address. Domains are easier to remember than a long and complicated IP address, which takes the form of a series of numbers. A domain can be divided up into three different elements: a subdomain, a domain name, and a top level domain (TLD). Take about.1and1.com as an example: the 'about' element is the subdomain, the '1and1' element is the domain name itself and the '.com' part of the URL is the top level domain. It is also possible to have multiple subdomain levels, info.about.1and1.com for example, which you can use to segment your website into separate categories. The length limit of a complete domain name is 255 characters. With 1&1, you can choose a domain name that best suits you or your business, or you can transfer an already existing domain over to 1&1. Next, customers can select a TLD from a wide variety of domain extensions on offer. When choosing a domain name, it is important to select something that properly reflects the ethos of your business in a concise and catchy way. A good domain should be memorable, brandable, and should have a suitable extension.
Transfer your domain name to us in 3 easy steps
1. Prepare your domain for the move 2. Transfer the domain 3. Enjoy the benefits of 1&1
What our customers are saying about us: