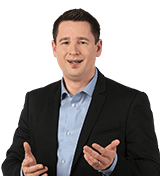 Do you have any questions or suggestions?
Contact us now
Thomas Keller
1&1 Domains Expert
New Top Level Domains, New Possibilities
Included: free email address, private registration, and SSL certificate
Tips for new domain extensions at 1&1
All Domains & Prices
Find the domain you want for an unbeatable price with 1&1
Registration

Registration Term

Renewal

ICANN Fee
What should you know about new top level domains
nTLDs
Suitable Domain Name
Pre-reserve
Purchase
What are nTLDs?
TLD stands for top-level domain. This is the official term for the part of the domain name that appears right at the end. The most common top-level domains are .com, .net, .org, and country-specific extensions such as .co.uk, .de and .fr. The 'n' in front of TLD simply stands for 'new'. Starting in November 2013, a wide range of creative new domain extensions became available. These nTLDs allow for a huge choice of potential combinations to form individual domains.
What our customers are saying about us: