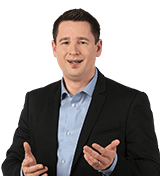 Do you have any questions or suggestions?
Contact us now
Thomas Keller
1&1 Domains Expert
New domain extensions FAQ
1. What are nTLDs?

TLD stands for top-level domain. This is the official term for the part of the domain name that appears right at the end. Currently,

the most common top-level domains are .com, .net, .org, and country-specific extensions such as .co.uk, .de and .fr. The 'n' in front of TLD simply stands for 'new'. With an expected start in November 2013, a wide range of creative new domain extensions will become available. These nTLDs will allow for a huge choice of potential combinations to form individual domains.

2. What's the purpose of the new domain extensions?

Currently, searching for suitable, available domain names is becoming increasingly difficult. The nTLDs are intended to provide a wide range

of suitable domain options to meet the needs of websites, brands and organizations. The days of scarce domains are numbered! With the new domain extensions, businesses and individuals will have a far greater choice when it comes to choosing a suitable domain name. Why not register a new domain extension that perfectly fits your company and business category? Differentiate yourself from the competition while also building customer confidence!

3. What new top-level domains will be available?

Over 1,400 new top-level domains were submitted during the application process, many of them related to well-known brands. So over the

next few years we may see large international corporations using their own domain extensions, for example, .bmw, .google or .zara. As well as brand TLDs, hundreds of generic extensions were also submitted. A complete overview can be found in our list of generic domain extensions.

4. What new top-level domains will 1&1 offer?

This is up to you. At the moment we have all the new domain extensions in our database, with the exception of those associated with trademarks.

Based on the domain pre-reservations we receive, decisions will be made on which new domain extensions will become available for registration at 1&1. There are currently no set prices or terms and conditions; these will be decided once the offered domains have been finalized. 1&1 plans to offer hundreds of new TLDs, allowing everyone to easily find their ideal domain.

5. When will the new domain extensions be available?

The timing of activation of new domain extensions is dependent on the ICANN application and approval process. Currently,

the first new TLDs are expected from ICANN in February 2014.

6. Why should I pre-reserve my preferred domains now?

New domain reservation works on a 'first come, first served' basis. This means that the first person to pre-reserve a particular domain

will have the opportunity to register it as soon as its terms and conditions become available. Once you pre-reserve a new top-level domain, we'll keep you informed about all relevant dates to ensure you never miss a deadline. If several prospective buyers are interested in the same domain, 1&1 can add them to a waiting list, giving everyone the best possible chance to register their preferred domain as soon as it is activated.

7. Does domain pre-reservation cost anything?

No, pre-reservation is absolutely free. Its only purpose is to keep you up to date with all relevant news and inform you when

your chosen domains become available.

8. Can I be absolutely sure that I'll get my preferred domain?

Unfortunately, we can't promise that your chosen domain will be registered, although of course we'll do our best! For over 20 years 1&1

has successfully registered domains for millions of customers, and we've been involved in many implementations of new TLDs. Thanks to this experience and excellent relationships with nTLD registrars, we're confident that we can convert the majority of pre-reservations into registrations as soon as the new domains are activated.

9. What will the new domain extensions cost?

Exact prices for the new domains are not yet known. Once detailed price information is supplied to 1&1 from the respective nTLD awarding authority,

it will of course be communicated to you.

10. Am I obligated to purchase domains I have pre-reserved?

No, simply pre-reserving a domain does not obligate you to purchase it. Domain pre-reservation is free, without obligation or risk.

Once price information and terms and conditions become available, you will be contacted to confirm whether you wish to proceed and pre-register your chosen domain.

11. What is ICANN and what is its role?

The 'Internet Corporation for Assigned Names and Numbers' is a California-based, nonprofit organization recognized by most state institutions.

ICANN is responsible for a range of policies and technical work relating to the Internet, and cooperates with external parties to develop various projects. It is also directly responsible for the implementation process of the new domain extensions. You can visit the ICANN website to learn more about the organization and its activities.