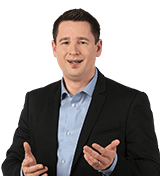 Do you have any questions or suggestions?
Contact us now
Thomas Keller
1&1 Domains Expert
The internet is changing!!!
+19 million Domain Names under management
+12 million customer contracts
2.355 Billion Euro Revenue 2012 (United Internet Group)
Over 15 years experience selling domain names to the mass-market
Three distinct brands with diverse Target groups
Why work with us?
The 1&1 Group – consisting of 1&1 Internet AG, united-domains AG, InterNetX GmbH - is excited about the internet's future and the pioneering roll nTLDs will play in shaping this future. Innovatively approaching this new opportunity, with both established registry partners as well as with many new registry partners, will be a core focus over the next years.
As one of the world's largest registrars, we know how to sell and manage domain names. In offering nTLDs to our significant customer base we see a huge opportunity for us and nTLD registries to grow. We bring further thousands of new customers online every day and nTLDs will allow these customers thousands of new possibilities to create their perfect online identity.
With these facts, we are certain we can play a substantial role helping Registries drive their nTLDs to success.
Contact
For more information and to start conversations about working together with 1&1 please contact ntld-marketing@1und1.de.